For those of you who've read an earlier entry on a significant friend of mine named Nuri, here's a picture of my recent visit to her on 29th May 2005, sunday evening in her sister's house in Cheras.
How much she has recovered from the last visit...erhmmm, 4 months ago. I didn't see her for almost 6 years before I was informed of her lying in coma.
To see Nuri's recovery is too witness God's miracle =)
Then (Jan '05) :
She was bedridden, legs were too weak to support the body. Paralysed waist down. Right hand can't even hold a spoon, too weak. Left side of her skull was damaged from bike accident, left that part soft. Just recovered about 2 months from semi-coma. Had memory lapse. Before accident, was staying with catholic bf in Penang and was no longer active in church.
Now (May '05) :
She could walk liau, right hand can be used but needs more exercise to strengthen the muscles. The skull that was damaged has been replaced through a minor operation. Able to joke and seemed more 'herself'. Still has memory lapse, permanent. Decided to stay on in KL with her mom and sis's family for good. Testifying of God's amazing grace as she talks.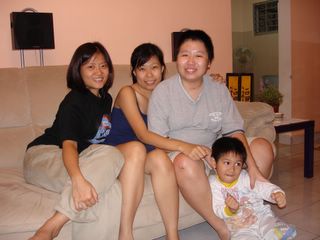 Joyce (my cellie), enn@j, Nuri & cheeky-smartie 4-year-old Kevan

*picture courtesy of Fei Yau